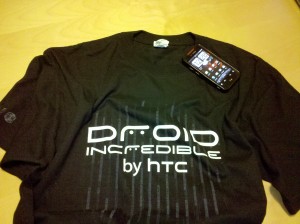 Over 200 entries for the Droid Incredible t-shirt!  Nice work everyone!  Thanks for all the re-tweets, spreading the word on Facebook and continuing to follow this goofy little site of ours.  It's pretty easy to continue to hand out prizes and put together contests with such a great community surrounding such wonderful devices.
With that said, let's announce this thing.  And the winner is…
@GuyWithDogs
Congrats Warrick!
And again, thanks to everyone for participating, following us on Twitter and Facebook, and continuing to be awesome people.
More contests to come!