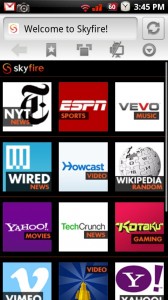 Sorry for the delayed post on this, but we've been a little busy playing with a new toy or two.  We are back now though!  And Skyfire 2.0 beta is what the people have called for!
If you are new to the Skyfire game, please ignore this post we did which included the leaked Skyfire beta.  Why you ask?  Because that version was almost pre-alpha compared to this latest release.  And yes, the new version includes the ability to play Flash video (sort of).  It does it in a round about way, but it definitely gets the job done.
There is one flaw though…the multi-touch is awful.  Is it a deal breaker?  Maybe.  See for yourself…
Download…
______________________
Some of our best videos.