Again, our readers come through with some amazing stuff.  This time, reader Wes, took over the custom HTC_IME keyboard game after I posted the walk through on how to make your own.  He tossed together 11 different keyboards ranging from Batman to Hello Kitty and wanted to make sure they were made available to Droid Life readers.  Gotta love that right?  He's also offered up his services in case any of you have a special request.  That's right, you shoot him an email and he'll create one for you.
So check out his first 11 and if you don't see one you like, shoot him an email via the attached contact form!
*These are for all users.  Non-rooted and rooted.*
Batman:  Download (alt link)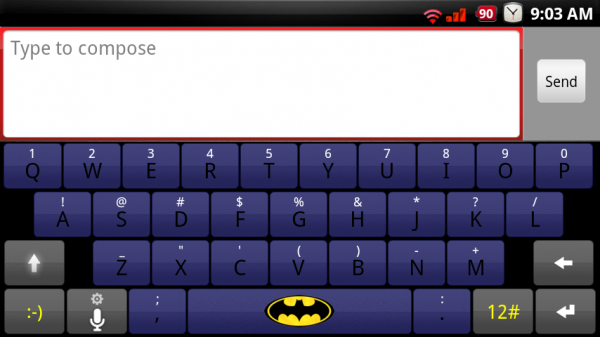 Check out the full lineup of keyboards after the jump!
Batman 2:  Download
Boba Fett:  Download (alt link)
Spiderman:  Download (alt link)
Panda:  Download (alt link)
Jango Fett:  Download (alt link)
Hello Kitty:  Download (alt link)
Green Lantern:  Download (alt link)
Transformers Decepticon:  Download (alt link)
Ohio State: Download
Atari: Download
NY Giants:  Download (Cheers Carl!)
UPDATES 4/27:
Chevy Cobalt: Download
Darth Vader: Download
Detroit Tigers: Download
Oakland Raiders: Download
Tampa Bay Rays: Download
LiveStrong:  Download
Crimson Tide: Download
Cleveland Cavaliers: Download
Washington Redskins:  Download
Droid Life: Download
*Remember to thank gIMpSTa, the developer behind this keyboard!  Donations accepted.*
______________________________________________
Instructions for submitting your keyboard requests:
1.  Requests are closed at this time.