First off, those of you not interested in the Droid Incredible, please do not feel like these posts are initial signs of this site moving away from the Motorola Droid.  The Motorola Droid is and will always be the #1 device on this site.  This site was started around the Moto and will continue to be based around the Moto for as long as that is possible.  Seriously, even if the the Droid2 comes out, we'll still probably be talking about the original.  It's that kind of a device and it's also the reason that this site and community is where it is today.  We have not forgotten that.
With that said, the opportunity to grow this amazing community by adding another Droid family member is a good thing.  So while we haven't 100% decided on adding the Incredible to our lineup, we need to test the waters a little and see if it may be worth it.
So please do not take the comments with concerns that we will be leaving coverage of the Moto Droid behind.  It's still our baby people!
_______________________
For those of you thinking about switching to the pretty new Droid Incredible, the posse at Wirefly was kind enough to toss together this comparison sheet…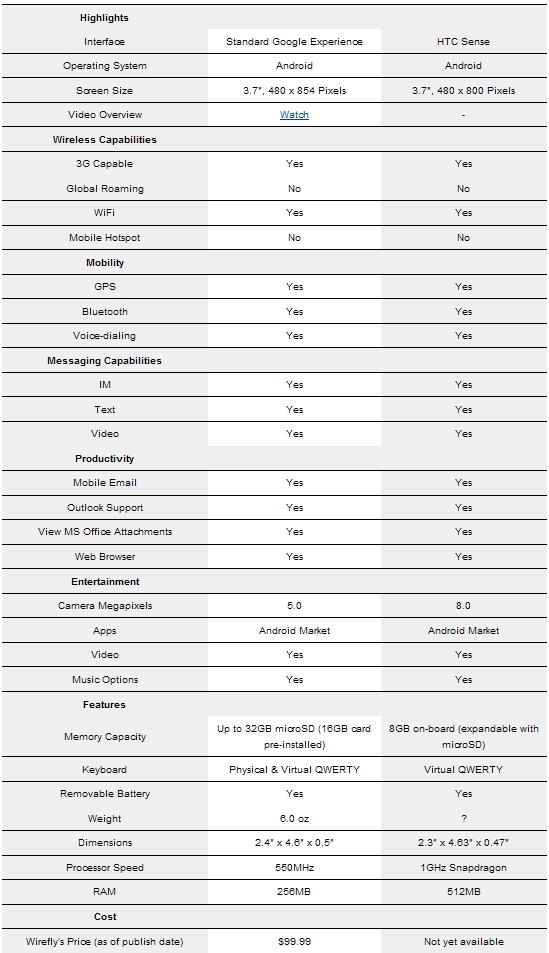 Source: Wirefly