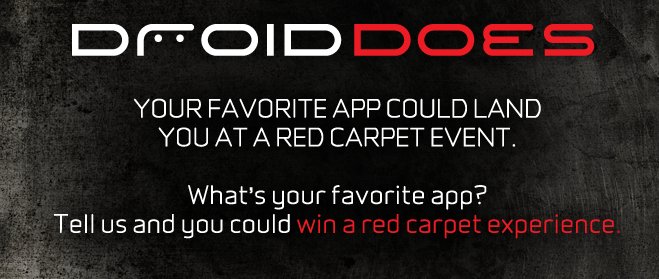 Want to attend a red carpet event that is yet to be determined?  (I know that sounds weird right?)  The VZW Droid peeps are running some sort of contest which simply asks, "What's your favorite app?"  If you follow this link, you can fill out a basic form, choose 1 of 6 apps listed, create a story around that app and you are entered.
Apparently the ads for this contest were first seen in magazines and may have even featured your name if you were a subscriber.  Gotta love marketing.
I checked out the prize page it it seriously doesn't specify what red carpet event you'll be attending.  It could be your local Har Mar Superstar album release party for all we know.  Still, it's free to enter.  Think about it anyway.
And if you don't feel like entering the contest, feel free to share with the rest of us your REAL favorite apps.
Mine would be…
1.  Hootsuite
2.  Foursquare
3.  Timeriffic