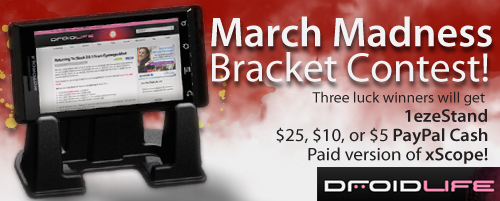 I know that it started almost a month ago, but the Droid Life March Madness Bracket Challenge has finally come to a close!  The Duke Blue Devils took down the Butler Bulldogs in one hell of a battle last night for the NCAA Men's hoops championship.  In fact, we were about 2 inches to the left away from a buzzer beating half court bank shot taking out Duke and putting "mid-major" Butler into historic company.  Craziness.  Pure craziness.
And to add to that craziness, a Duke championship caused a 3-way tie for 1st place in our pool!  Nuts eh?  In the event of a tie, we were hoping that ESPN would have some mathematical way to decide a true winner, but unfortunately that didn't happen.  So we're splitting up the prizes evenly and adding more cash!
Here is the new prize breakdown:
Our three 1st place winners will all receive $20 Paypal cash, 1 ezeStand, and 1 full version of the newest xScope browser.  $20 should buy you all a handful of new apps or accessories right?
The winners:
Salad Shooter Special, R. Menna
vgpd 1, D. Verdier
ryanpofarrell 1, R. O'Farrell
You have all been messaged through your ESPN account.  Please check the message I've sent and respond as soon as possible so we can send out your bundle of prizes!  Congrats you three!
And let's all give another huge "Thanks!" to our fantastic sponsors ezeStand and xScope browser.
Another great Droid Life contest is in the books.  Over 252 entries is pretty damn amazing if I may say so myself.  The readers of this site continue to amaze me daily.  Thanks everyone and stay tuned for future chances to win fabulous prizes!