I know, I know, here we go again.  After all the Android 2.1 delays can you believe we are attacking this again?  Reports are popping up from all over the Android world pegging today as the day that the Motorola Droid will finally start to receive the 2.1 update it has been waiting for.  As you'll see down below, another 1,000 test updates were sent this morning which will be followed by the larger rollout starting tonight at midnight.  So does this mean we're finally becoming official 2.1 members?
Here is what we've got so far…
The Droid upgrade page now lists a new build (ESE81) rather than the ESE53 build which we had been led to believe was coming…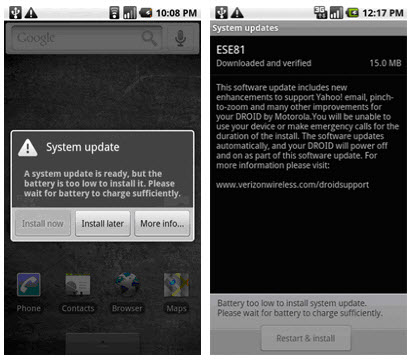 The update PDF has also changed to this new build…
This email was also posted at Howard Forums…
DROID by Motorola: Software Enhancements

Effective Date: 3/30/2010
Starting 03/30, Verizon Wireless is pleased to announce a new software update for the DROID by Motorola. Users will be able to upgrade their software to version AP: ESE53/BP: C_01.3E.03P to receive new improvements and enhancements.

Key Advantages:
* Email: Yahoo Mail is now supported and the customer can simply sign in with their Yahoo! Email address and password. Note: Yahoo! Email is not available over Wi-Fi
* Pinch to Zoom now available in the Browser, Maps, and Gallery
* Speech-to-Text: Customers can now use their voice instead of typing whenever a text-entry box appears
* Google Goggles is now preloaded
* The new Gallery application uses 3D layout and shows both pictures taken with the customers¿ Android device and images from the Picasa Web Albums account online
Download & Install Conditions:
* An OTA download requires 40% or more power availability if the device is not connected to an external power source or 20% or more power if it is connected to an external source
* If roaming, the customer will not receive the update. The only option in this scenario is for the subscriber to enable Wi-Fi and wait for a mandatory OTA. The wait period in this case will not be more than 12 hours
* User must wait to receive the upgrade via OTA
* User is unable to make or receive calls, including emergency calls during this time
* Users will see the following information when they select More info on the update screen: This software update includes new enhancements to support Yahoo! Email, pinch-to-zoom, and many other improvements for your DROID by Motorola. You will be unable to use your device or make emergency calls for the duration of the install. The software updates automatically, and your DROID will power off and on as part of this software upgrade. For more information please visit: www.verizonwireless.com/droidsupport.
Engadget has now posted an email regarding the rollout of the update…
*Software Schedule:*
Below is the software-upgrade notification schedule (All times listed are Eastern Time):

o At noon on 03/30, 1,000 users will receive notification of
the update.
o At 11:59 PM on 03/30, 9,000 more users will receive the
update notification.
o After the first 10,000 users receive the update on 03/30,
there will be a 24-hour period when no additional upgrades
will be delivered.
o On Day 3 (04/01), 200,000 users will receive the update
notification at 11:59 PM. This schedule will continue each
day thereafter until the update has been delivered to all users.
Photo of an official 2.1 update…
And our guy confirmed that there are only 3 screens still.  Sorry folks.
Our source at Verizon just sent over this screenie.  It's official people. And while I can also see that it says ESE53 on it, trust me when I say that this is real.  If you think it's shopped or fake, then please leave this site as you should know me better than that by now…
More updates coming…