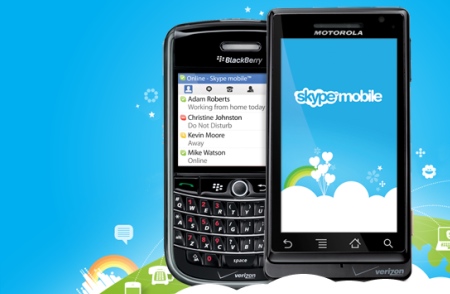 We knew this day was on the horizon, but today Verizon made this Thursday the official launch day for Skype Mobile through an announcement at CTIA in Vegas.  Here are some of the details…
Beginning Thursday, new and existing Verizon Wireless customers with Android 3G smartphones and BlackBerry 3G smartphones can get Skype mobile in a number of ways.  Visit www.verizonwireless.com/skypemobile or www.skype.com/go/mobile from a PC to enter the mobile phone number to receive a text message with a link to the application.  Verizon Wireless customers can also text "SKYPE" to 2255 to receive the link.  In addition, Android customers will be able to download the app from Android Market™.  New BlackBerry customers will find the application on their 3G smartphones' home screens in the Downloads folder when activate
And some of the uses…
Skype mobile gives Verizon Wireless 3G smartphone users with data plans a simple new way to stay in touch with friends, family and business colleagues around the corner and around the world while on Verizon Wireless' network.  Skype mobile users can:

make and receive unlimited Skype-to-Skype voice calls to any Skype contact around the globe;
send and receive unlimited instant messages with other Skype users;
manage the Skype contact list directly from the mobile application; and
call international phone numbers at competitive Skype calling rates.
I'm actually pretty excited to test this out, especially now that some of my friends have joined the 21st century by purchasing smart phones.  Anyone else?