It has been almost two years since the release of the Nexus 10, which first hit shelves on November 13, 2012. For anyone who has been wanting to use a Nexus tablet larger than a Nexus 7, Google has definitely been testing your patience. Fast forward to today and we finally have a new Nexus slate, made in partnership between Google and HTC of all companies, which stopped making tablets for the US market a tad over two years ago.
The Nexus 9 is supposedly HTC's new "commitment" to the tablet market, and I have to tell you, using an HTC-made Nexus device is somewhat like shaking hands with a dear old friend. HTC's last venture in the Nexus category was with the original Nexus phone many years ago, so it is nice to see them partnered with Google once again.
Officially, this is the first publicly available device to run Android 5.0 "Lollipop," also coming powered by NVIDIA's 64-bit Tegra K1 processor and 2GB of RAM. That alone is enough to excite any Android fan, so you can imagine my desire to dive into the tablet as quickly as possible.
We have been fortunate enough to take the Nexus 9 for a spin over the weekend, and we are ready to deliver our verdict on whether this should be your next slate.
This is our Nexus 9 review.

The Good
---
Specs
Google and HTC teamed up to bring a good lineup of specifications to the Nexus 9, featuring an 8.9-inch 4:3 display with a ratio of 2048 × 1536, 2.3GHz dual-core 64-bit NVIDIA Tegra K1 processor, 2GB of RAM, front-facing BoomSound speakers, rear-facing 8MP camera, front-facing 1.6MP camera, 16GB or 32GB of storage, and a large 6,700mAh battery. Two specs which stand out are the 64-bit Tegra K1 chip, plus the fact that the Nexus 9 ships with Android 5.0 Lollipop. It is the first device to officially offer Google's newest mobile OS, and so far, we can't get enough of it.
Design
The overall design of the Nexus 9 is simplistic, but totally screams Nexus. It is my opinion that Nexus hardware will never be flamboyant in the design department, with most attention being paid to the optimization of software that comes preinstalled. Given that Nexus devices are aimed at vanilla enthusiasts and software developers, it's not as if Google actually needs to spend too long approving a design from a manufacturer. As for the Nexus 9, while entirely understated, it does feel right at home in your hands.
The Indigo Black model features a soft-touch backside which gives off an almost sticky sensation, but feels very smooth to the touch. For the size, I feel that if someone currently has an iPad, and were thinking about picking up an Android tablet for the first time, they would love it. The tablet is thin, but not to the point where you think you might snap it in half. It offers good weight and durability, but still feels light and precious in-hand. When it comes to design, it really does not get much more plain than the Indigo Black model.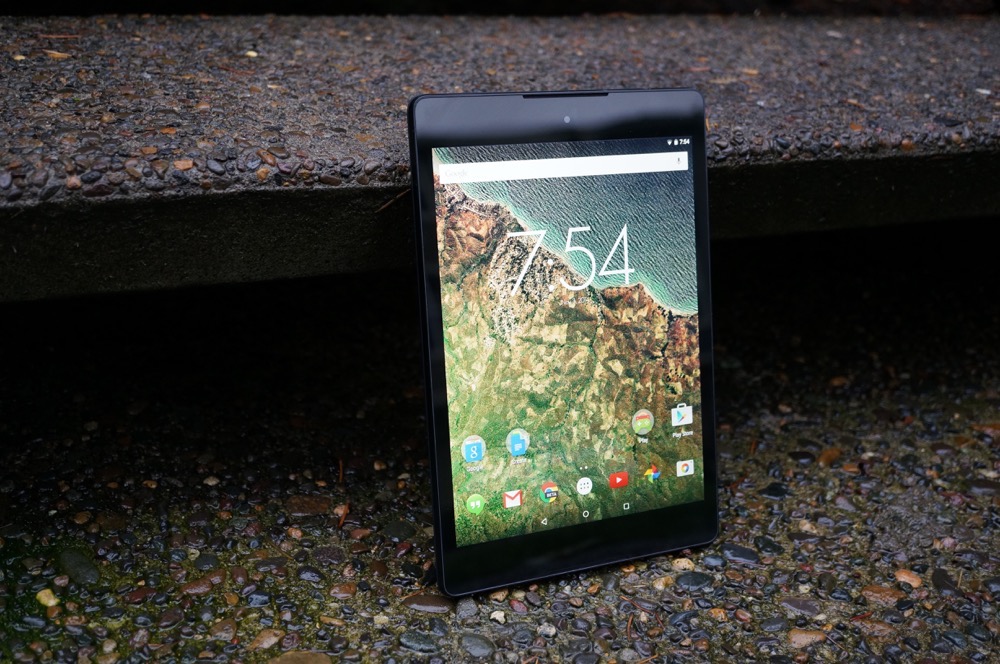 Display
The display on the Nexus 9 is quite interesting, given that it features a 4:3 aspect ratio, instead of the 16:9 most Android tablet users have come to know. To me, the 4:3 simply means that this device feels natural in both landscape and portrait viewing modes, and thankfully, Lollipop compliments this theory. While the animation between the two modes is not as smooth as it is on an iPad, the Nexus 9's display offers an excellent experience. The tablet features an 8.9″ IPS LCD TFT panel with a resolution of 2048 x 1536. While it may not be QHD, you will probably never be close enough to the screen to see a pixel with your naked eye. While watching movies, detail look extremely crisp, and the color reproduction seems spot on during my tests. Thanks to the Tegra K1, graphics flowed smooth, while lighting and textures look life-like and immersive.
Macros for fun.
Android 5.0 "Lollipop"
Starting in early stages with Ice Cream Sandwich, Android has grown into a mature and balanced mobile operating system. With Lollipop, you really get a sense that this version of Android simply works both on tablets and phones. While a few may argue that Android's tablet application ecosystem is still far behind Apple's iPad, Google is putting a ton of effort into guiding developers toward creating beautiful apps to take advantage of larger displays.
What has been the most warming experience is to see Google's own suite of apps completely redesigned for Android 5.0, looking more clean and usable than ever. Google's apps for Lollipop on tablets are a real joy to use, and are a huge part of Lollipop itself. Without the Material Design makeover for all applications, then all of the work that the Android team put into Android 5.0 would be wasted.
Going beyond apps, Lollipop is absolutely stunning. With smooth animations and ripple-like effects taking place when you interact with the device, it is as if Lollipop has a mind and heart of its own. The color scheme has been taken from a darker look with Kit Kat, to a more approachable and lightened feel. When compared to all past versions of Android that have been released, Lollipop is the one I am most excited for.
Performance
With its 64-bit Tegra K1 from NVIDIA and 2GB of RAM, while also running the new Android Runtime (ART), Lollipop on the Nexus 9 absolutely flies. Whether I was browsing the web using Chrome or playing Sonic the Hedgehog, I never felt that the Nexus 9 was struggling to keep up. In comparison to other tablets I have used, I did not think for a second that the Nexus 9 was underpowered or could use a speed boost.
Battery Life
For the sake of full transparency, I only had the Nexus 9 since late Friday afternoon, but I used the tablet pretty much nonstop over the weekend. From what I can tell, the Nexus 9's battery life is quite good, and should last just as long as advertised (video playback: up to 9.5 hours, wifi standby: up to 30 days). I was at full juice when I started watching The Hobbit: Desolation of Smaug, and after concluding that, I was left with 70%. If you are on a coast-to-coast flight, that means you should have no problem putting down a couple of movies with some juice left to spare. Usually when reviewing a device, we like to have about a full week of usage before giving a full report on battery, but from my experience, I don't see any major issues with battery life or longevity of a single charge. The only other small note I should add is that charging the Nexus 9's 6,700mAh seemed to take forever. Going from 15% to fully charged took me a few solid hours, and at first, I thought I received a defective unit with how long it took.
Availability and Price
The Nexus 9 is available starting today through Google Play, Amazon, and Best Buy. Priced at $399 for the 16GB and $479 for the 32GB option, the experience you receive with the Nexus 9 seems justified for the price. However, my only main issue with the price is the lack of expandable storage. Given that tablets are primarily used for consuming a whole lot of content, we do wish a 32GB/64GB setup was implemented instead. A variant with 4G LTE connectivity is also on the way, priced at $599, but there is no word exactly when that model will be made available. As of right now, the Nexus 9 comes in Indigo Black and Lunar White, with a Sand color option coming soon.
Somewhere in the Middle
---
Speakers
Coming with HTC's BoomSound, I have to say, I expected a tad more from the dual front-facing stereo speakers. For a tablet, the device can get loud enough, but at full volume, I found them to be a bit crackly. When streaming audio through All Access, then messing with the built-in equalizer, I had hoped I could adjust the sound to make it a bit fuller. Unfortunately, the equalizer did not help one bit, making the volume even lower. While the speakers get the job done with no issues while playing games or watching a movie with the tablet in your lap, I would suggest that no one get too overly excited about the featured speakers.
Camera
During my brief time with the device, I used the camera about 3 times. While I was not at all impressed with the quality of photos taken, I can't say I would ever use the camera on a tablet enough to justify giving it a bad score. Tablets should only be used for photography in the most dire of circumstances, and for that reason, you don't really need to have an absolute killer sensor inside. It gets the job done. Period.
Here are a few shots I snapped. They are resized, but other than that they are untouched.
Full resolution: 1 | 2 | 3 | 4 | 5
Not-so-Good
---
Limited Storage
As I mentioned, tablets are heavy on media consumption. I need a device that can haul plenty of games, numerous movies, and all of the documents I might need for offline usage. With there only being a 16GB and 32GB option, no 64GB at all, I must say this is sort of a failure on Google's part. The system takes up 7GB of the 32GB model right off the top, so out of the box, users receive 25GB of usable storage. For a lot of consumers, especially Android users in particular, we need more storage. The lack of a microSD slot is entirely forgivable, but only when an option for larger storage models is available. In this scenario, the failure to offer more than 16GB and 32GB of storage could be a major drawback for future buyers.
Other Notes
---
Upside down microUSB port:  Another little thing that bugs me is upside down microUSB ports. Not a huge deal, but if you have mild OCD, then prepare yourself for that.
Fingerprint magnet:  If you happen to like french fries and other greasy foods, you might find the back of your Indigo Black Nexus 9 becoming quite messy. It is not a big deal or anything, but you should expect to see it dirtied up pretty good after a bit of good usage. For those who may purchase the White or Sand model, your backs will likely fare better thanks to the lighter color.
Quick updates: Given that it's a Nexus device, you can expect to have updates before anyone else straight from Google. I don't think I have to dive deep into why that's important for Android users.
Accessories: So far, Google offers a smartstand for the Nexus 9, as well as a keyboard case through Google Play. Unsurprisingly, the keyboard case is overpriced as a mofo' at $129.99, but to essentially replace your laptop, Google thinks the price is fair.
No wireless charging: It would have been a plus, but the lack of wireless charging is no deal breaker for me. It just seems that with all phones coming with the feature now standard, the tablets would be next in line to receive this. Maybe next time.
Video
---
Unboxing and Tour
[responsive_vid]
Lollipop Tour
[responsive_vid vid_url="4jxJ8tqIf6k"]
Gallery
---
Verdict
---
Overall, the Nexus 9 is a superb Android tablet. If you currently own either a Nexus 7 (2012/2013) or a Nexus 10, the Nexus 9 would be a fantastic upgrade for you. If this would be your first Android tablet experience, then your patience has most definitely paid off.
The Nexus 9 offers good battery life coupled with awesome performance during video playback, game playing, and application multitasking, while also looking like a tablet you could take home to mother. Android 5.0 "Lollipop," at least in my opinion, is a serious lunge in the right direction for the operating system as a whole.
Thanks to Google's work on both the Android suite of apps front, as well as the beautiful polish that comes with Lollipop, the Nexus 9 easily has my vote for Android tablet of the year.