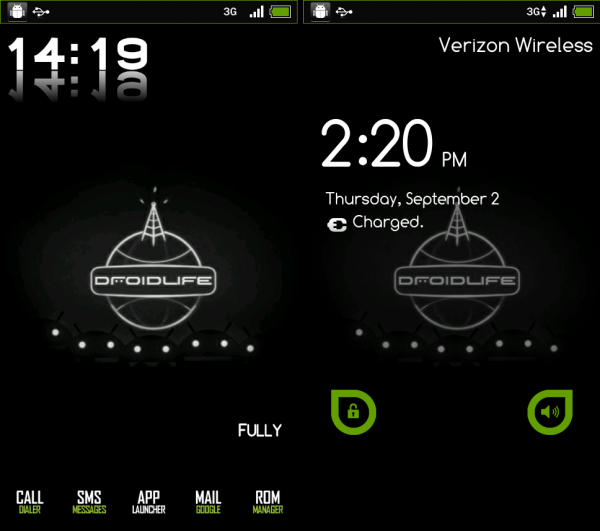 Tato's Homescreen!
Hey everyone! Hope you're all doing well this glorious Friday! What an amazing week here at Droid-Life! We've been running our Live Supprt IRC Channel, and now have our very own Droid Life Forum! It's turning into an amazingly glorious place to be and I am completely honored to be here as a part of it. *Note: I always tear up when writing these*
So, this week we have an truly beautiful theme for Sapphire 1.0.0 for you; it's called the Drop Theme by Pandroid. I'm sure most people here have heard of Dark Edge. Well imagine if Dark Edge had a "sexy cousin". That is this theme. So, come on and take the plunge and give it a shot!
Downloads and install instructions after the jump…
This theme is intended for the Sapphire 1.0.0 STOCK THEME ROM. If you are not running that, please download from ROM Manager under the "CVPCS" section. Thanks!
*FOR THE ORIGINAL DROID ONLY.
Step 1: Download which color you would like RED, BLUE, GREEN, or ORANGE.

Step 2: Place zip file on root of SD Card.
Step 3: Open ROM Manager and select "Install ROM from SD Card".
Step 4: Please proceed to make a backup if you do not have a current one already. Do not wipe data.
Step 5: Click "OK" and watch Clockwork Mod Recovery turn your phone into pure "money".
As always, resort to our awesome comment section if you need help! So many great people on this site! And if you don't find your answers there, then come check us out in the IRC Channel! Much love you all! Have a great and SAFE Labor Day weekend!
-Tim-o-tato
_______________________________________
If you wanna make your screen look just like mine, check out these links! 🙂
BattStatt Battery Widget, D-Clock Clock Widget, Droid-Life wallpaper, and the lovely Icon packs!! Have fun everyone!
See previous Custom Theme Fridays!

Credit for theme to: Drop Theme by Pandroid.
And special thanks to Ludacrosse05 for all the special things you do for everyone around here!