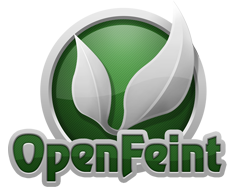 The big dog of iOS mobile gaming is readying an Android onslaught later this summer.  OpenFeint, who claims to have the largest mobile gaming developer community on the planet, is bringing their crew over to the good side of life and hopes to bring some much needed quality to its gaming sector.
A piece of the presser…
Android will Accompany Titles from Glu Mobile, Digital Chocolate, And Hudson Entertainment.

Burlingame, CA – July 8, 2010 – OpenFeint, the leading mobile social gaming ecosystem for iOS devices, today announced that its 9,200 member game developer community with thousands of published games will soon have a complete solution to thrive in the Android apps economy. Launching later this summer, the company's complete solution will include its de facto standard SDK, a game discovery store and mobile payment options. It will also include high quality content from leading publishers Astraware, Digital Chocolate, Glu Mobile, Hudson Soft and independent studios like Distinct Dev (Moron Test), ustwo (Dot Dot Dot), Pik Pok (Flick Kick Football) and RocketCat Games (Hook Champ).

With a strong set of partners at launch, OpenFeint's ecosystem provides Android users the most compelling way to discover and buy high quality online games. In addition to incorporating Google Checkout and leading community features into its developer SDK, OpenFeint will extend its wildly successful Game Spotlight discovery app to Android. Interested parties can register at www.openfeint.com/developers/android for details as they emerge.
Excited?  I know the gaming arena on Android has been pretty weak for so long that it's about time a major player comes our way.
Via: Gizmodo