To all the Yahoo! heads out there, your app pack is officially ready!  Yahoo Messenger, Mail and even a search widget were launched today in the Android market.  It's a little surprising that it took Yahoo! this long to create a search widget knowing that Google has been killing it in the smartphone market because of their search's integration, but at least they made it.
Here are some of the details from Yahoo!:
With the new Yahoo! Mail App for Android, consumers can:

Receive push notification of new email messages
Send emails to contacts from the Yahoo! Address Book as well as contacts in the native phone address book
Search email messages by sender, recipient, subject and keywords in the body of the email
Upload photos as attachments directly from camera or the photo gallery
View and download attachments
Insert emoticons and rich text formatting into emails
Effectively manage and organize their Yahoo! Mail messages, folders and manage spam
Toggle between the Yahoo! Mail and Yahoo! Messenger apps with ease

With the new Yahoo! Messenger App for Android, consumers can:

Easily message friends, check friends' status updates & availability as well as update their own status & availability
Send instant messages to friends via SMS text messages*
Stay connected with full support for multitasking allowing the app to work in the background; with push notifications consumers can easily catch new messages and friend requests
Full use of emoticons and rich text formatting
Send photos to friends directly from the phone's camera or the photo gallery
All free.
Download: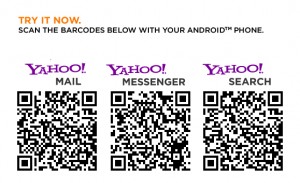 Source: YMobileBlog