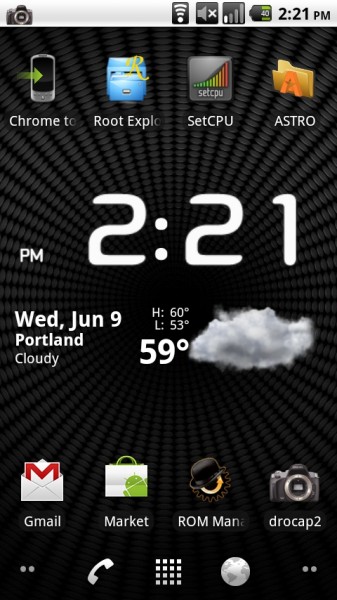 Finally, after 25 emails and tweets of "Bugless Beast Froyo is out!"  we have a post! Haha.  You guys all really love you some Pete!  Below are a bunch of download links that should work for now.  If you have others, feel free to post them in the comments so that everyone who wants this can get a hold of it.  I'm not currently in a spot where I can upload. Sorry!
*Rooted users only.  Still not rooted?  Follow our full guide here.
This is not in ROM Manager yet, but should be soon.
Download: BBFroyoV01.zip (alt link)  (alt link2)  (alt link3)
Instructions…
1.  Download Bugless Beast Froyo V0.1 from one of the links above to your SD Card.
2.  Open ROM Manager and choose "Install ROM from SD Card."
3.  Navigate to the folder that has the BB Froyo file you just downloaded and tap on it.
4.  Probably a good idea to check the box to make a backup.
5.  It's up to you if you want to check the box to "wipe data and cache."
I came from FRF57 Froyo and this new BB installed just fine.  However, if you run into issues, flash your backup, re-install BB with at least one wipe.
6.  Allow your phone to boot into recovery, work some magic and BAM!  Done!
Full support thread and Pete's donate link here.
Feature list after the jump.
Features:
-Base FRF57 (credit to Google)
-Fully Zipaligned System (credit to Pete)
-Fully Deodexed System (credit to Pete)
-Chrome To Phone App (credit to Google)
-Native Flash Player (credit to Adobe)
-Milestone Video Player App (credit to Pete)
-Native Sound Recorder App (credit to Pete)
-Native Usable Quick Office App (credit to Pete)
-Spare Parts App (modded by Pete)
-Neural Network Live Wallpaper with Google Colors (credit to Pete)
-Huge Library of System Audio (credit to Pete) *All 2.0 & 2.1 Sounds*
-Longer Duration Between Wifi Scans Tweak *Battery Saver* (credit to Pete)
-Version Information In Settings > About Phone (credit to Pete)
-SuperUser App V2.1 w/ new UI (credit to ChainsDD)
-Ads blocked by default in apps & browser (credit to Pete)
-Eliminated the need for SetCPU, AutoKiller, AdFree, TaskManagers, etc. (credit to Pete)
-Camera Sounds Silenced by default *shutter & video recording* (credit to Pete)
-Nearly 100MB free at boot (credit to Pete)
-Over 50MB of free memory at all times (credit to Pete)
-Busybox & Toolbox commands installed at boot (thanks Koush)
-No longer need to "EnableScripts" (credit to Pete)
-Backup/Delete Apps Using Astro & godmode
-Percentage in Battery Icon (images by xeudoxus)
-Less CPU Intensive LWPs (idea by ChevyNo1 & ReverendYo)
Comments, questions or issues?  Drop them below!