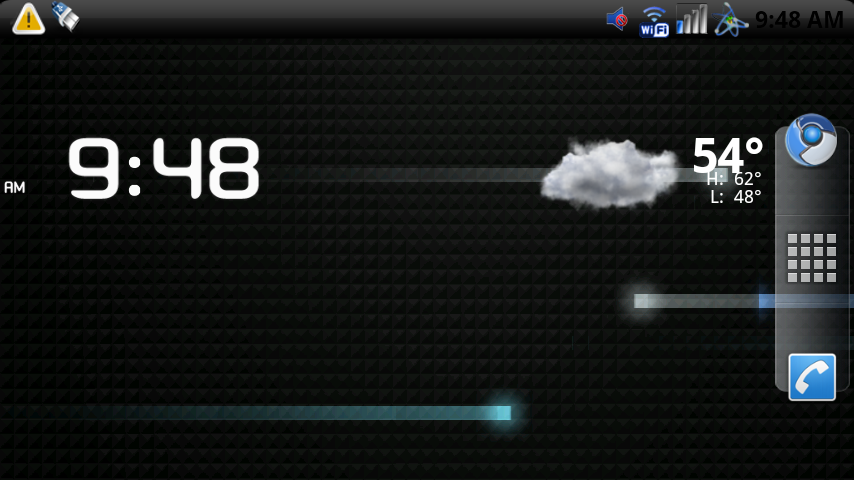 It's been raining for 20 consecutive days here in Portland, so what better way to celebrate that than with an all blue theme.  Actually, this was a special request from one of our long time readers and we always try our best to meet their needs.
Theme:  Blue Energy V1.0.3 for CyanogenMod V5.0.7.1
Instructions…
1.  Your phone needs to be rooted.  (Full guide on rooting here.)
2. You need to have CyanogenMod V5.0.7.1 installed.
3. Open ROM Manager and choose Download ROM.
4. Scroll down to "roberj13" and tap.
5. Then choose the Blue Energy Theme option for Cyanogen.
6. When prompted, check the box for "App Pack for CM."
7. Once finished downloading, you do not need to "wipe data and cache."
8. Check the box to "backup" if you don't have a recent one.
9. Press "OK" and your phone will reboot.
10. Let it work its installation magic, reboot and BAM! Done!
For users without ROM Manager premium and for the full support thread visit here.
Gallery:
*Side Note* – The goal was to show off Blue Energy for Bugless Beast, but ever since Pete upgraded to V1.1 my phone boots and boots and boots.  It's stable for about 10 minutes and then goes into a lovely boot cycle.  Tried 4 different kernels, wiped data and cache 15 times, and no good.  Anyone else running into stability issues with BB?
Comments or questions?