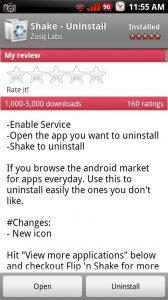 Shake Uninstall is a must-have app for anyone who is really into testing multiple applications at a time.  If you like to cruise the market grabbing anything looking semi-interesting, this  app will allow you to uninstall them quickly once you realize they are garbage.  (Was that uncalled for?)
And yes, it's free.
Download…
______________________
Some of our best videos.