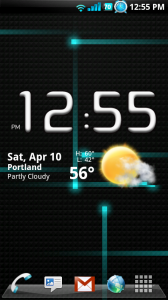 For those of you holding off on purchasing the ClockworkMod Launcher in hopes of a stock 2.1 version of the HelixLauncher2, your wait is almost over.  We just received a beta version of the HelixLauncher2 which works on the 2.1 Update 1 ESE81 build for your Motorola Droid.  They've changed it up slightly and I've got to say that this thing looks amazing.  (Ignore my custom ROM and just focus on the launcher.)
Video action…
And it looks now like this version has hit public beta so all of you stock 2.1 users can test it!  And just a reminder that you should all try to donate to the Helix cause to keep fantastic apps like this growing.
*Note 1* – THIS IS NOT ON THE MARKET. DO NOT DOWNLOAD HELIX 2 FROM THE MARKET.  You will immediately go into a force close loop with that version.
*Note 2* – When you first install, I would recommend NOT selecting as your default on the first try.  If you run into a force close loop, it can be a huge pain in the rear to get out of with a 3rd party app like this.
*Note 3* – The link above which says "donate" will get you to the download page.  But please, donate the $5 first.
____________________
My ROM: JRummy's Remix V0.5 CyanogenMod V5.0.5.7 w/ NexusMod Live Paper