The people have been heard!  That's right, all of you struggling to return back to stock after flashing to the latest CyanogenMod can now relax.  Koush's ROM Manager received yet another update today, this time including an option to flash SPRecovery.  Yay!  Just open ROM Manager and scroll to the bottom to flash it…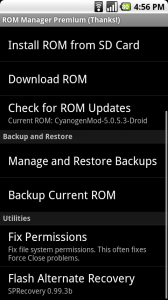 For whatever reason, DM Updater was struggling to recognize that your phone was either rooted or not actually utilizing SPRecovery, therefore was not allowing you to flash it and then follow through with the process of returning back to a stock 2.0.1 Droid.
Download…
Let me know if this helps!
Cheers @JStandiford21!