The concept behind ZumoDrive's mobile offering was a good one: offer your users cloud-synced files from their computer straight to their phone; I mean, why transfer your entire music collection to your SD card when you can leave it all cached online? Even better was the 2GB of free space they've given unpaid users, giving them a taste of what they could come to expect from their service.
However, up until about five minutes ago, none of that worked.
Up until a just-posted update, ZumoDrive crashed repeatedly on my Droid. From other reviews, it did the same thing on this specific model of phone. It wasn't enough to just close the app; no, it kept opening and closing, taunting me each time that it might work.
Bugs aside, I installed ZumoDrive's app last night with a little bit of optimism: I read comics on my Droid (well, technically Milestone) through an app called Android Comics Viewer. In theory, I could maintain a "to read" folder on my PC where I could store my comics, and have those files follow my phone.
However, ZumoDrive is a bit restrictive in the sense that files you sync have to be handled by ZumoDrive's app; that means if you bring along music, pictures or video, it is played through their native player. This seems like a bit of a deal breaker, because, to put it simply, I don't need another music player on my Droid.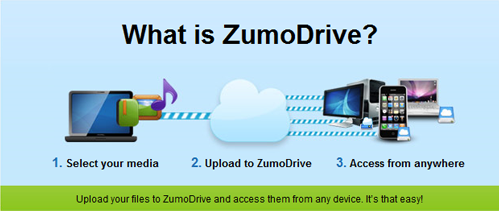 I also don't need one with an unintuitive interface; in order to access the controls to skip songs or jump to a certain place on a timeline, the screen must be tapped once to bring them up. Sure, this was probably a move to save screen real estate for the large album art display, but when it isn't immediately apparent where the controls are, I was left confused (the "menu" button was left blank, too).
ZumoDrive's available for WebOS, iPhone and Android; I think the fact that the company's spread out over three different OS' might be a reason for their unfound bugs. I'll give them the benefit of the doubt, though: sometimes these things happen.
What would make me spend money on their service would be the creation of a virtual drive, like their software does on my computer. I'm not sure if it's possible using the current Android software, but man, being able to use ASTRO file manager on Zumo'd files (or open them in other programs) would add a lot of versatility to what they offer.
So in short, Zumodrive does exactly what it says on the box: it stores your files on a cloud and allows you to access them. However, it's a bit short-sighted, as unless you're storing pictures, video or music, you won't be able to use said files. Good for some uses, but lacking for others.
Download: